We, the faithful of St. Joseph Parish, willingly accept our baptismal call to gather and worship as a community, to proclaim the Word of God and to serve in the image of Jesus Christ.
St. Rose of Lima Roman Catholic Church
A Mission Church of St. Joseph's Parish, Middletown, DE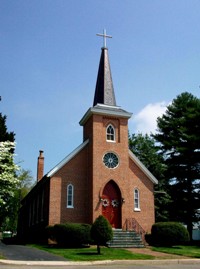 Photo by Lewis Collins
Est. 1874
Sunday Worship 8:00 & 9:30 a.m.
Tuesday Worship 8:30 a.m.
301 Lock Street
North Chesapeake City, MD
888-433-1874
dkelley@stjosephmiddletown.com
<![if !supportEmptyParas]> <![endif]>
<![if !supportEmptyParas]> <![endif]>
<![if !supportEmptyParas]>
<![endif]>Saint Rose of Lima, T.O.S.D., was a Spanish colonist in Lima, Peru, who became known for both her life of severe asceticism and her care of the needy of the city through her own private efforts. Saint Rose of Lima was a beautiful girl who wanted to devote her life to God. To make herself unattractive to men, she rubbed pepper on her face. She spent her life in prayer and fasting, growing flowers to sell and help the poor. Her parents did not allow her to become a nun. So St. Rose joined the Third Order of St. Dominic instead, where she could continue to serve God at home. She is the patron saint of florists and gardeners. Her Feast Day is on 23 August.
Born: April 20, 1586, Lima, Peru
Died: August 24, 1617, Lima, Peru
<![if !supportEmptyParas]> https://www.ewtn.com/library/MARY/ROSE.HTM<![endif]>
<![if !supportEmptyParas]> Profile in Faith <![endif]>
Cecil Whig Article on St. Rose